寶塚歌劇 月組東京寶塚劇場公演
『應天之門』『Deep Sea ─海神們的嘉年華會─』
千秋樂 現場直播
2023年4月30日(日)12:30 開演(香港、台灣時間)
Sunday, April 30, 2023 from 12:30 in Hong Kong and Taiwan Time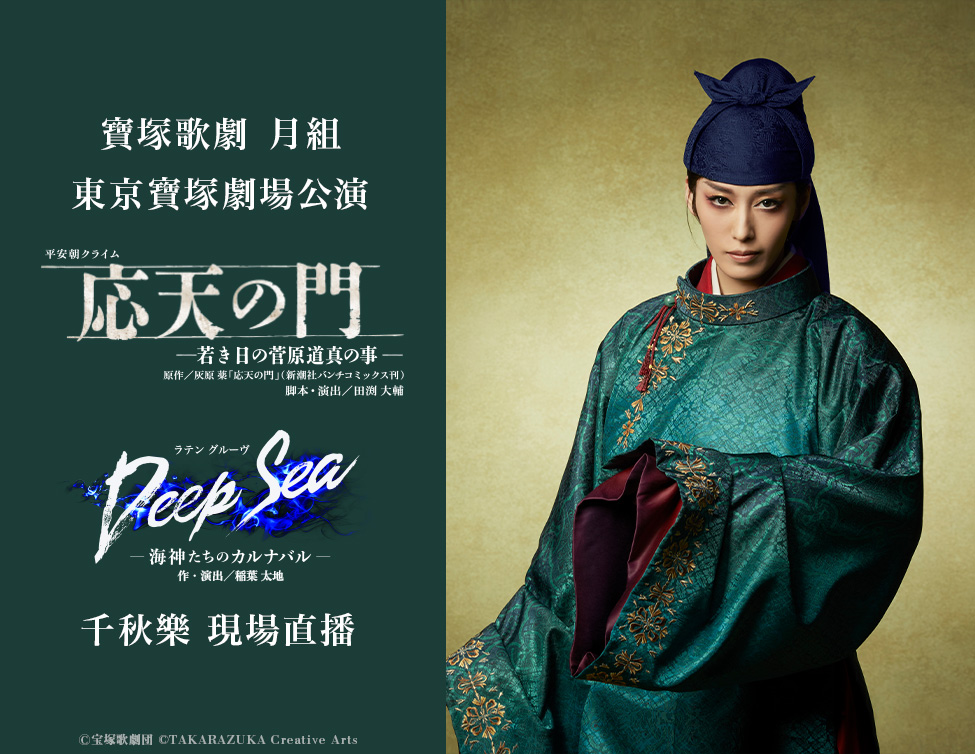 寶塚歌寶塚歌劇 月組東京寶塚劇場公演『應天之門』『Deep Sea ─海神們的嘉年華會─』千秋樂 決定舉行現場直播!
寶塚歌劇 月組東京寶塚劇場公演『應天之門』『Deep Sea ─海神們的嘉年華會─』千秋樂 現場直播
Takarazuka Revue Moon Troupe Tokyo Takarazuka Theater Performance "OHTEN NO MON" "Deep Sea-The Carnival of the Sea Gods-" Last Performance Live Broadcast
2023年4月30日(日)12:30 開演(香港、台灣時間)
Sunday, April 30, 2023 from 12:30 in Hong Kong and Taiwan Time
地點:香港及台灣的戲院
Venue: Movie theaters in Hong Kong and Taiwan
---
*『應天之門』以中文字幕呈現
・活動現場嚴禁攝影,拍照,錄音。如經查獲,將刪除拍攝內容並請您離場,謝謝您的合作。
・因本活動為現場直播,音質和畫質會因網絡状況等因素,而受到一定程度的干擾,敬請見諒。
・當演出時間大幅超過預期,直播會有可能在中途結束,敬請見諒。
*"OHTEN NO MON" presented with Chinese subtitles
・It is strictly prohibited to photograph or take any audio/visual records whatsoever in the theaters.
 If someone does such a prohibited act, we will delete the data and make him/her leave the theater.
 Thank you for your cooperation.
・Please note that video and audio may be affected due to the line conditions.
・Please note that the screening might be terminated even before the show ends if the show continues much later than the scheduled end time.
---
有關現場直播活動
根據政府針對新冠狀病毒感染蔓延的要求,我們可能會根據情況考慮或討論現場直播的舉行狀況。我們由衷感謝您的理解。
About the Live Broadcast
Based on a request from the Government Task Force following the spread of the new coronavirus infection, we may consider and discuss the holding of the Live Broadcast depending on the situation. Thank you for your understanding.
---
■Takarazuka Revue Official Site(繁体中文): http://takarazukarevue.tw/
■寶塚歌劇團 台灣官方網頁: https://www.facebook.com/TakarazukaRevue.tw/
Planned and Produced by Takarazuka Creative Arts
Distributed by LIVE VIEWING JAPAN Inc.
©宝塚歌劇団 ©TAKARAZUKA Creative Arts

由月城かなと(Kanato Tsukishiro)率領的月組
解謎歷史懸疑和引人入勝的雙人舞拉丁秀
將於日本、香港及台灣的戲院直播!
寶塚歌劇 月組於2023年4月30日(日),東京寶塚劇場(東京都)上演,平安朝時代犯罪劇『應天之門』─青年菅原道真軼事─、拉丁搖擺『Deep Sea ─海神們的嘉年華會─』的千秋樂,將於日本、香港及台灣的戲院舉行現場直播。
改編自灰原藥先生在「月刊漫畫集」連載的同名漫畫「應天之門」是描寫被尊為"學問之神"的少年菅原道真與警察局長在原業平攜手調查於京都經常發生的歷史神秘事件。
平安時代初期的京都,據說是每月的子日晚上,若於「百鬼夜行」街道上看到鬼怪昂首闊步大街者將會被其附身而亡的怪異事件經常發生。自幼才華出眾而享譽盛名的菅原道真,被不久前才認識的警察局長在原業平看上他的才智,說服其協助一起調查怪異事件。
拉丁搖擺『Deep Sea ─海神們的嘉年華會─』描繪了聚集在海底神殿的海神們展現前所未見的熱情嘉年華。以月城 かなと為首的月組團員們帶來魅力四射的拉丁秀,以及充滿熱情搖擺的誘人世界,將於戲院為您獻上。
敬請於戲院的大銀幕上盡情享受充滿月組的兩部表演。
---
Moon Troupe led by Kana Tsukishiro
A Latin show that fascinates with historical suspense and duet dance that solves mysterious cases
will be live Broadcasted to movie theaters in Japan, Hong Kong and Taiwan!
On Sunday, April 30, 2023, the last performance present by Takarazuka Revue Flower Troupe at Tokyo Takarazuka Theater (Tokyo), Heian Mysteries "OHTEN NO MON" -The Tale of Young Sugawara no Michizane-, Latin Grooves "Deep Sea-The Carnival of the Sea Gods-" will be live broadcasted to the movie theaters in Japan, Hong Kong and Taiwan.
Based on the comic of the same name by Mr. Yak Haibara serialized in "Monthly Comic Bunch""OHTEN NO MON" is about a young Sugawara no Michizane revered as the "god of learning", cooperates with the chief of the Imperial Police, Ariwara no Narihira solving the mysterious incidents which occurred frequently.
In the early Heian period in Kyoto, a massive night parade of demons marching through the streets monthly on the day of the Rat and killing anyone who sees them. Michizane has been highly praised for his brilliance since childhood, is asked by Narihira for his cooperation to investigate the mysterious incidents.
They gradually get closer to the truth of the mystery, behind it all, however, there is the greed of those in power swirling, who disguise their misdeeds as the works of demons and specters.
Latin Grooves "Deep Sea-The Carnival of the Sea Gods-" depicts deep at the bottom of the sea, warmed by the heat of the Earth's mantle is where the curtain opens on the sea gods' carnival! Replete with the charm of Moon Troupe members led by Kanato Tsukishiro, we are honor to delivers an alluring performance filled with passionate rhythms to you in the movie theater.
Please enjoy the 2 sessions of the performance which full of Moon Troupe attracts on the big screen of the movie theater.
【公演】
平安朝時代犯罪劇
『應天之門』─青年菅原道真軼事─
原作/灰原 藥『應天之門』(新潮社BUNCH COMICS出版)
編劇、導演/田渕 大輔
拉丁搖擺
『Deep Sea ─海神們的嘉年華會─』
編寫、導演/稻葉 太地
【演員】
寶塚歌劇團
(月組)月城 かなと(Kanato Tsukishiro)、海乃 美月(Mitsuki Umino)其他
※【什麼是寶塚歌舞劇?】>>Click Here
---
【Performance】
Heian Mysteries 
"OHTEN NO MON" -The Tale of Young Sugawara no Michizane-
Based on the manga "OHTEN NO MON" by Yak Haibara (published by SHINCHOSHA BUNCH COMICS)
Script and direction by Daisuke Tabuchi
Latin Grooves 
"Deep Sea-The Carnival of the Sea Gods-"
Written and directed by Daichi Inaba
【Cast】
Takarazuka Revue
(Moon Troupe)Kanato Tsukishiro, Mitsuki Umino and more
※【Do you know Takarazuka Revue?】>>Click Here